The New iPhone 14 has been announced, and we're all trying to figure out what this means for us as consumers. We've got all the details, so you can make an informed decision and buy the best iPhone 14 on the market!
Starting with the iPhone 14 and iPhone 14 Plus:

What's New About The iPhone 14?
The new iPhone 14 has many exciting new features! It comes with a completely redesigned operating system that allows users to experience everything they love about their current iPhones more quickly. Users can also expect improved battery life, so they don't have to worry about running out of power during the day - even if they're using their phones constantly! Plus, there are more storage options than ever before!
A Brand New Design With An Amazing Battery Life
The iPhone 14 and 14 Plus are even larger than before, with the 14 being 6.1" and the plus 6.7". They both feature a durable, sleek, aerospace-grade aluminum design in five color choices. The colors that will be available are purple, midnight blue, starlight, and red. The larger iPhone 14 Plus is the perfect size for streaming movies or playing games, while the iPhone 14 Plus boasts the best battery life, with a battery that can last all day, depending. Both of these models have been updated internally as well. They have better thermal performance and amazing Super Retina XDR displays with OLED technology that supports 1200 nits of peak HDR brightness and Dolby Vision.
Apple goes on to boast about the amazing durability of the iPhone 14 and iPhone 14 Plus, stating that they have a durable Ceramic Shield front cover, exclusive to the iPhone and stronger than any other smartphone glass. Plus, they are protected from everyday spills and accidents with water and dust resistance. 

Powerful Camera Upgrades
The new iPhone 14 camera features a 12 MP main camera on the rear, a larger sensor, and larger pixels Faster f/1.5 aperture. 49% improved low light performance. The front-facing camera now offers a new true depth offering a 12MP hybrid system. A photonic engine dramatically improves the software image processing on the device more than 2x better than the iPhone 13. Action mode will come to video for a smoother motion at high speeds, complete with Dolby Vision HDR recording.
Dual-camera system upgrades and features include:
A new main camera with a larger f/1.5 aperture and 1.9um pixels, enabling photo and video improvements in all lighting for better detail and motion freezing.
A new TrueDepth camera with an f/1.9 aperture enables better low-light performance for photos and videos.
A new action mode for a smooth video adjusts to significant shakes and motions even when captured in the middle of the action.
The ultra-wide camera is a unique perspective for wider shots and improvements to low-light photos with a Photonic engine.
An improved true tone flash that's brighter gives more uniformity to what you are photographing.
Cinematic mode is available in 4K at 30 fps and 4K at 24 fps.
End-to-end Dolby Vision HDR, which is only available on the new iPhones.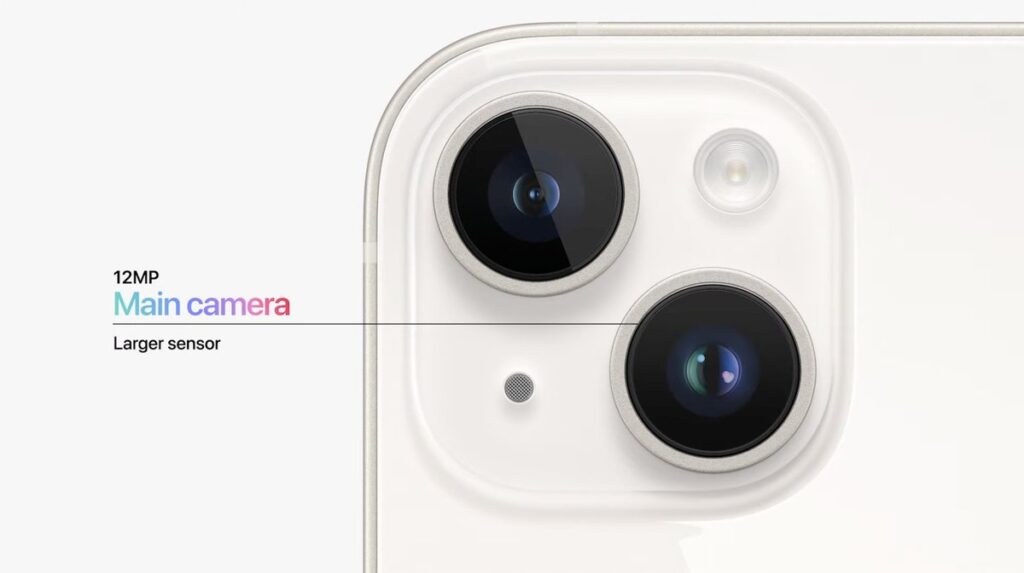 Crash Detection And Emergency SOS VIA Satellite
All iPhone 14 smartphones come with groundbreaking safety capabilities that can provide emergency assistance when it matters. The crash detection on iPhone can now detect a severe car crash and automatically dial emergency services when a user is unconscious or unable to reach their iPhone. In addition to this, the iPhone 14 lineup also includes Emergency SOS via satellite which combines custom components in the software to allow antennas to connect directly to a satellite enabling messaging with emergency services outside of cellular or Wi-Fi coverage.
Crash Detection and Emergency SOS By Satellite
Another new feature you're going to love is that crash detection from Apple Watch is coming to the iPhone 14, thanks to an improved accelerometer. The two devices will work together in case of an emergency. Custom components and software allow the iPhone to connect to the unique frequencies to satellites. The software works like a compass which will help you identify satellites for emergency messaging.
A Virtual Powerhouse with the 5-Core GPU
A15 Bionic brings outstanding performance to the iPhone 14 and iPhone 14Plus. Still, one of the fastest smartphones you can get, the 5-core GPU enables even smoother graphics for gameplay and video apps. It powers incredible camera features like the Photonic Engine and Cinematic mode, all while delivering impressive battery life and protecting your privacy and security with the Secure Enclave.
The 6-core CPU handles all the tasks throughout the day smoothly and efficiently. Plus, the 16-core Neural Engine is capable of an impressive 15.8 trillion operations per second, enabling even faster machine learning.
Astounding Connection Capabilities
As an iPhone user, you expect super-fast downloads and uploads, and the iPhone 14 and iPhone 14 Plus deliver. These smartphones provide super-fast downloads and uploads, better streaming, and real-time connectivity with 5G to help them stay in touch and share content.
eSIM allows users to connect easily and quickly transfer their existing plans digitally, which is much more secure than the physical SIM card and allows for multiple cellular plants on a single device. iPhone 14 and iPhone 14 Plus remove the SIM tray for US models enabling users to quickly and easily set up their device.
Featuring iOS 16
iPhone 14 and iPhone 14 Plus feature iOS 16, offering a reimagined Lock Screen and new communication, sharing, and intelligence features that change how users experience the iPhone. The Lock Screen is more personal and helpful than ever with the multilayer effect, which shows the photos in front of the time and newly designed widgets that offer information at a glance. You no longer have to unlock your iPhone to find the information, such as the weather you want.
Apple has created collections available in the wallpaper gallery, including weather wallpaper to see live weather conditions, Astronomy wallpaper for views of the Earth, Moon, and solar system. With messages, you can now edit or recall recently sent messages and mark conversations as unread to review them later. iCloud Shared Photo Library makes sharing photo collections with family even easier.
Live Text is even more powerful now with the ability to recognize text in video and quickly convert currency, translate text, and more. Visual Look Up adds a new feature that allows users to tap and hold on to the subject of an image to lift it from the background and place it in apps like messages.
The price is the same, with the iPhone 14 starting at $799 and the iPhone 14 Plus starting at $899.
Now to the New iPhone 14 Pro & iPhone 14 Pro Max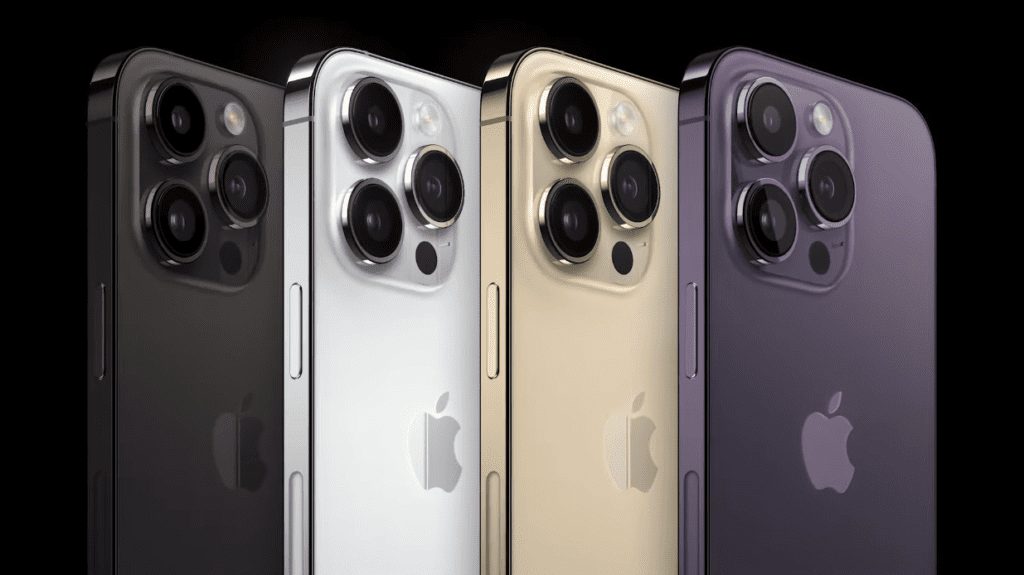 This is the first significant display redesign since Apple introduced the iPhone X in 2017; both handsets have a new pill-shaped cutout that replaces the notch and can adjust dynamically. Both also have a faster A16 Bionic chip and an always-on display.
Most Advanced Display On A Smartphone
A new A15X processor powers the new iPhone 14 Pro and Max with a 1Hz refresh rate and multiple power-efficient technologies. This makes the new Lock Screen even more helpful by having everything available at a single glance. The advanced display also brings peak HDR brightness levels as Pro Display XDR and the highest outdoor peak brightness in a smartphone with up to 2000 nits which is twice as bright as the iPhone 13 Pro.
The iPhone 14 Pro and Max feature a beautiful surgical-grade stainless steel and textured matte glass design in four colors and are available in both 6.1 and 6.7-inch sizes. Both models include a new Super Retina XDR display with ProMotion that features the Always-On display for the first time on an iPhone.
iPhone 14 Pro and iPhone 14 Pro Max will continue to offer industry-leading durability with the Ceramic Shield front cover, which is stronger than any other smartphone glass, and protection from common spills and accidents with water and dust resistance.
Dynamic Island - A New User Experience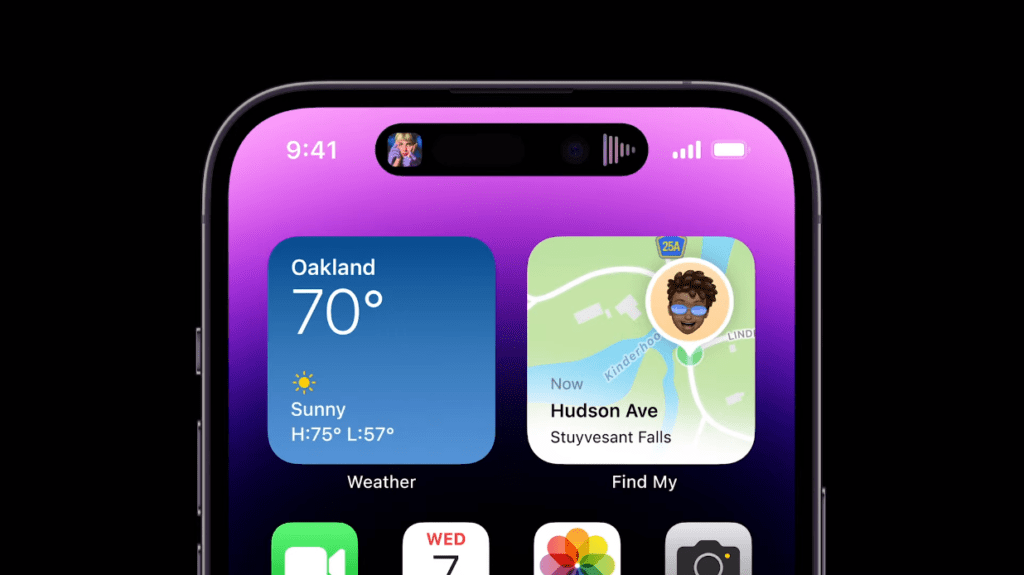 The Dynamic Island is a new way to interact with your iPhone, featuring a design that blends the line between hardware and software. The Dynamic Island enables users to interact with their phone in new ways, providing easy access to important alerts, notifications, and activities.
With the introduction of the Dynamic Island, the True Depth camera has been redesigned to take up less of the display area. Without impeding content on the screen, the Dynamic Island maintains an active state to allow users easier access to controls with a simple tap-and-hold. Ongoing background activities like Maps, Music, or a timer remain visible and interactive, and third-party apps in iOS 16 that provide information like sports scores and ride-sharing with Live Activities can take advantage of the Dynamic Island.
All About The Camera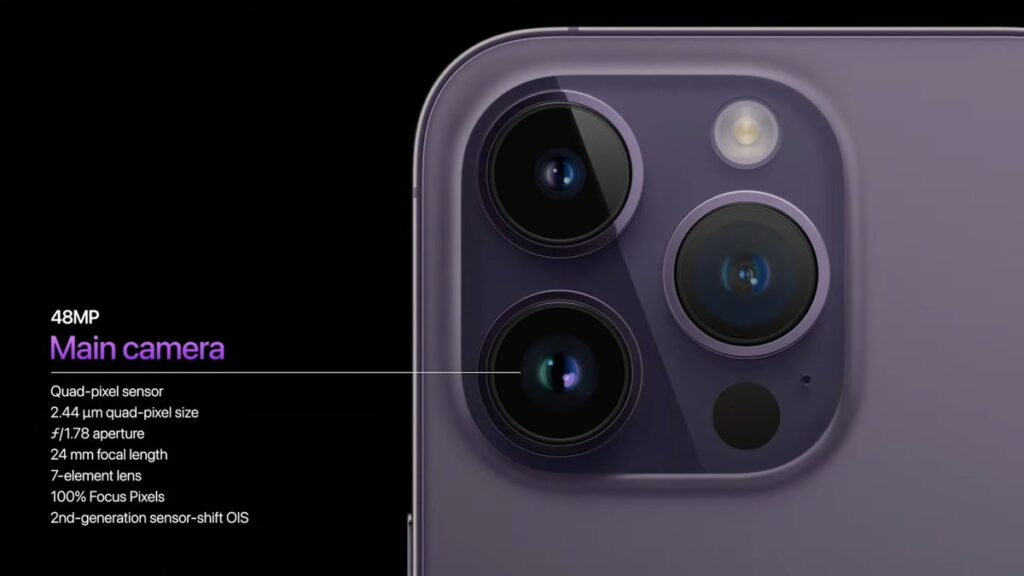 The camera system on iPhone 14 Pro and iPhone 14 Pro Max pushes the boundaries and empowers every user from casual to professional to capture the best photos and videos possible.
iPhone 14 Pro takes computational photography even further with Photonic Engine, offering a giant leap for mid- to low-light performance in photos across all cameras through a deep integration of hardware and software: up to 2x on the Main camera, up to 3x on the Ultra Wide camera, up to 2x on the Telephoto camera, and up to 2x on the TrueDepth camera. Photonic Engine enables this dramatic increase in quality by applying Deep Fusion earlier in the imaging process to deliver extraordinary detail, preserve subtle textures, provide better color, and maintain more information in a photo.
The iPhone 14 Pro's new Photonic Engine is made possible by the TrueDepth Camera system—a set of advanced sensors that captures data about your face, provides facial recognition security features and shapes facial expressions into emojis.
For the first time ever, the iPhone Pro lineup features a new 48MP Main camera with a quad-pixel sensor that adapts to the photo being captured.
This new sensor is capable of combining every four pixels into one large quad pixel equivalent to 2.44 µm, resulting in amazing low-light capture and keeping photo size at a practical 12MP. The quad-pixel sensor also enables a 2x Telephoto option that uses the middle 12 megapixels of the sensor for full-resolution photos and 4K videos with no digital zoom. This delivers optical quality at a familiar focal length, which is great for features like Portrait mode.
The quad-pixel sensor also brings benefits to pro workflows, optimizing for detail in ProRAW. And with a new machine learning model designed specifically for the quad-pixel sensor, iPhone now shoots ProRAW at 48MP with unprecedented detail, enabling new creative workflows for pro users.

A16 - The Fastest Chip in a Smartphone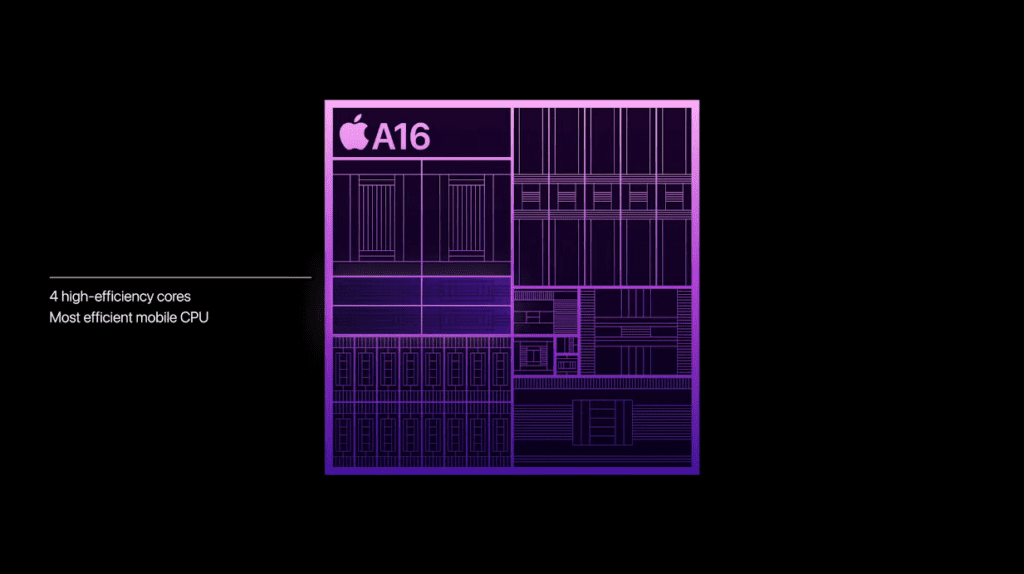 Apple's new A16 Bionic chip is like a supercomputer that's been shrunk down to fit in your pocket.
The A16 Bionic chip in iPhone 14 Pro and iPhone 14 Pro Max is generations ahead of the competition and unlocks unparalleled experiences like the Dynamic Island and powers all-day battery life,7 delivering impressive computational photography capabilities. With two high-performance cores and four high-efficiency cores, the new 6-core CPU is up to 40 percent faster than the competition and easily handles demanding workloads. A16 Bionic features an accelerated 5-core GPU with 50 percent more memory bandwidth — perfect for graphics-intensive games and apps — and a new 16-core Neural Engine capable of nearly 17 trillion operations per second. Using Apple's best-in-class fusion architecture to combine performance and energy savings, the chip delivers more performance with a fraction of the power compared to the competition.
The future of cellular capabilities is here, and it's called 5G.
5G is a new generation of wireless technology that promises to offer faster speeds and more reliable connections than any other previous cell phone technology. It will also allow for the use of many new types of applications that could not be accessed before. The first commercial 5G networks will begin rolling out in 2020.
The iPhone 14 Pro starts at $999, and the iPhone 14 Pro Max starts at $1099. You can preorder these phones beginning September 9; they'll be hitting stores and shipping on September 16.